New Year's Eve Dinner Party
Kick off the new year in true Florentine style
Start the evening with a Cocktail party at Meze's from 6 pm to 7.30 pm, and treat yourself to Champagne, delightful finger foods, and live music. Step into the Gala Dinner at Angel from 8 pm, featuring a four-course menu and two glasses of Champagne.
Keep the festivities alive and wait for midnight with DJ set at our afterparty. Enjoy a spectacular fireworks display from the Hotel Calimala's panoramic rooftop.
Info & Bookings
Book Now
The benefits of direct booking
The rooftop of the Hotel Calimala hosts a restaurant, two bars, an indoor breakfast hall, and a floral patio. Spreading over four terraces, Angel Roofbar & Dining offers a range of dining options to suit your mood.
Enjoy unparalleled views of Florence's historic center while indulging in our Southern-Mediterranean cuisine or sipping signature cocktails.
Recipes from the World
At Angel, we offer a Southern-Mediterranean menu that combines the best of Italian tradition with international flavors. Our talented chef, Mor, skillfully transforms locally sourced ingredients into gourmet dishes. Angel's modern cuisine is inspired by the region's rich culinary heritage and reflects our passion for fresh, seasonal ingredients.
Our dinner menu
Our wine list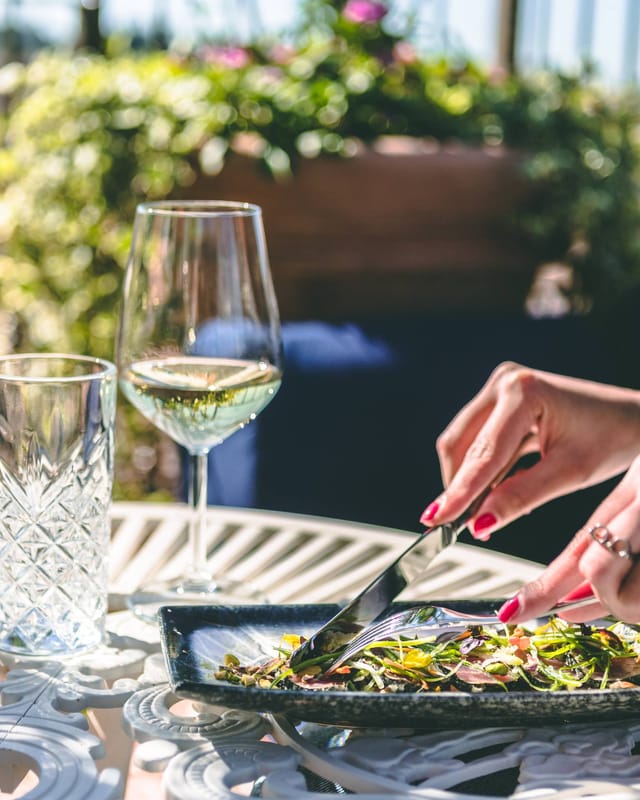 Treat yourself to an unforgettable aperitivo experience on one of the most exclusive terraces in Florence. Savor a glass of wine, sample our cocktails, and try our delicious finger foods. At Angel Roofbar & Dining, we take pride in offering house-crafted drinks made with a unique mix of local and international spirits. Our expert bartenders are always on hand to create the perfect drink for you.
Escape the hustle and bustle of work or a morning of sightseeing in the enchanting city of Florence with a lunch break at Angel. Relax, unwind and immerse yourself in a truly sensory experience. Our menu boasts a variety of both cold and warm dishes, complemented by a choice of coffee or exquisite wine. Plus, savor the added bonus of a magnificent view of Florence from Angel's terrace.
Monday
Lunch from 12 am to 3 pm
Drinks only from 3 pm to 11 pm
Tuesday — Sunday
Lunch from 12 pm to 3 pm
Drinks only from 3 pm to 5 pm
Aperitivo & dinner form 5 pm to 11 pm
1/5
Book your table and soak in Angel's atmosphere
VAT: 02330280971
Rea: FI - 640654